Active support for the local community and commitment to those most in need are two values that SABO has decided to embrace and support through the SABO for Social project, and more specifically through the solidarity initiative "Volunteers for a day", created in close collaboration with the Department of Social Policies of the Municipality of Bergamo and the Banco di Solidarietà Onlus Association of Bergamo.
The project, which is part of the company's wider Corporate Social Responsibility initiatives, involved more than 70 employees preparing and distributing food parcels in every part of the city during working hours on two afternoons a week.
The initiative, which will run until the end of the year, has been exciting and enriching for everyone involved from the start: as well as doing something good, it has created team-building opportunities for colleagues and strengthened the sense of cohesion and belonging within the company.
An active and conscious participation which, by sharing a common goal, lays the foundations for building a better future together.
Read the statements of SABO's CEO Germano Peverelli, the Municipality of Bergamo and the Banco di Solidarietà of Bergamo in the press release available at the following link.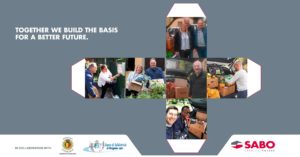 Browse the gallery: