Contact us
Synergistic systems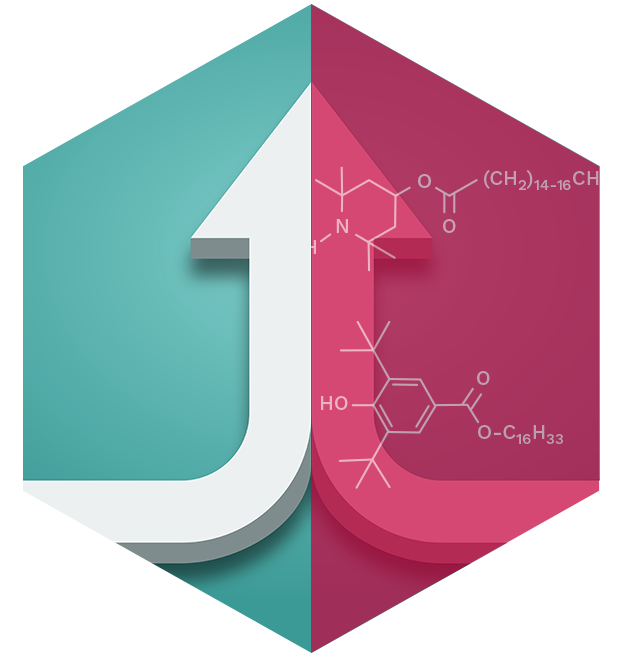 Synergistic systems are ready to use mixtures of two or more components purposely designed to reach unmatched performances as compared to traditional UV light stabilizers used as single additives.
SABOSTAB® UV 216 and SABOSTAB® UV 418 are designed mainly for the light stabilization of polyethylene (PE) and EVA-based agricultural films, and provide outstanding long-term UV protection combined with a superior resistance to aggressive pesticides and fumigants.
SABOSTAB® UV 228 50PP and SABOSTAB® UV 229 50PP outperform conventional HALS in polypropylene and impact-modified PP (TPO) in terms of UV stabilization, and are the best solutions for automotive interior parts thanks to their minimal VOC contribution.
SABOSTAB® UV 78 is a versatile and cost-effective light stabilizer in a broad range of polymers. Key applications include PE and ethylene copolymers, in both thin (film, tape) and thick-section parts, mostly intended for general purpose use (industrial bags, containers, etc.)
Technical documentation can be downloaded in the Customer Area.
| Product | Application | Description |
| --- | --- | --- |
| | | |
| --- | --- | --- |
| SABOSTAB® UV 216 | | 100% active light stabilizer blend designed for the stabilization of PE and EVA-based greenhouse films. It provides outstanding UV protection to greenhouse films combined with highly persistent UV absorbance and superior resistance to aggressive agrochemicals. Product supplied as free-flowing pellets. |
| SABOSTAB® UV 228 50 PP | | High performance light stabilizer system developed to meet the requirements of PP and TPO for automotive interior applications, including excellent weatherability and low fogging/VOC's. It is also suited for general purpose PP and TPO injection molding applications, as well as in TPO roofing membranes. Product supplied as free-flowing pellets. |
| SABOSTAB® UV 229 50 PP | | High performance light stabilizer system developed to meet the requirements of PP and TPO for automotive interior applications, including excellent weatherability and low fogging/VOC's. It is also suited for general purpose PP and TPO injection molding applications, as well as in TPO roofing membranes. Product supplied as free-flowing pellets. |
| SABOSTAB® UV 418 | | 100% active light stabilizer blend designed mainly for the light stabilization of PE and EVA-based agricultural films. It provides outstanding UV protection to films without added UV absorber, and exhibits superior resistance to aggressive agrochemicals. Product supplied as free-flowing pellets. |
| SABOSTAB® UV 78 | | General purpose blend of oligomeric HALS. Major applications are in polyolefins. Product supplied as free-flow beads. |