Contact us
Ester HALS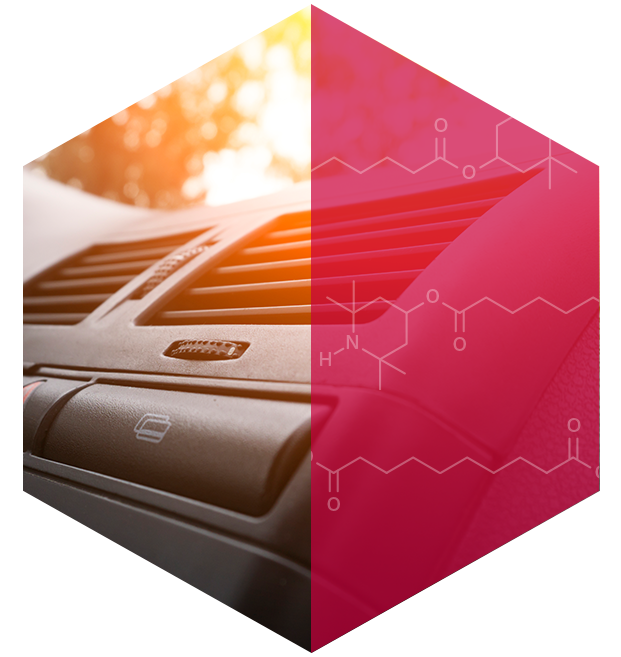 UV light stabilizers prevent degradation of polymers by scavenging free radicals formed when plastic materials are exposed to sunlight. HALS exhibit an unmatched effectiveness to inhibit photodegradation mechanisms that lead to undesired changes in plastic articles, such as cracking, chalking, color changes and finally loss of physical properties.
As mostly low molecular weight additives, ester HALS show high mobility in polymer matrices and as a result provide high light stabilizing effectiveness. Products like SABOSTAB® UV 70 and SABOSTAB® UV 91 are especially suitable for surface protection of thick section parts injection-molded from polypropylene (PP) or impact modified PP used as automotive parts or outdoor furniture. SABOSTAB® UV 65 is the preferred solution for liquid systems and in non-polyolefin applications: polyurethanes (PUR), ABS and other styrenic polymers, plasticized PVC, adhesives, sealants and coatings.
SABOSTAB® UV 62 is the sole exception within this family, being a very high molecular weight oligomeric HALS, and as such is suitable for thin section applications (e.g., fibers, films) due to its low migration rate, and whenever interactions with acidic species (like carbon black or flame retardants), may limit HALS effectiveness.
Technical documentation can be downloaded in the Customer Area.
| Product | Application | Description |
| --- | --- | --- |
| | | |
| --- | --- | --- |
| SABOSTAB® UV 26 | | Liquid PolyOxyEthylene HALS that extends lifetimes of formulated systems including polyurethanes, plasticized PVC, styrenic polymers (ABS, ASA), acrylics, unsaturated polyesters, elastomers, liquid color masterbatches. |
| SABOSTAB® UV 62 | | Polymeric, general-purpose Ester HALS, often used in blends with other light stabilizers (like amino HALS). Preferred choice for systems containing carbon black. Extensive food contact clearances. Product supplied as free-flowing beads. |
| SABOSTAB® UV 65 | | Liquid low molecular weight Ester HALS. Main applications include polyurethanes, plasticized PVC, styrenic polymers (ABS, ASA), acrylics, unsaturated polyesters, elastomers, liquid color masterbatches, adhesives, sealants, and in solvent-based coatings. |
| SABOSTAB® UV 70 | | Low molecular weight, general purpose Ester HALS. Preferred choice for PP thick section and tape applications. Product supplied as free-flow, low dust micro-beads. |
| SABOSTAB® UV 91 | | Low molecular weight Ester HALS exhibiting superior compatibility in polyolefins. Applications include PP and TPO for automotive interior applications, due to its outstanding performance as well as low contribution to fogging/VOC's. Product supplied as a low melting wax. |
| SABOSTAB® UV 91 50 PP | | SABOSTAB® UV 91 supplied as an easy to handle 50% concentrate in PP pellets. |