Contact us
Anti-static additives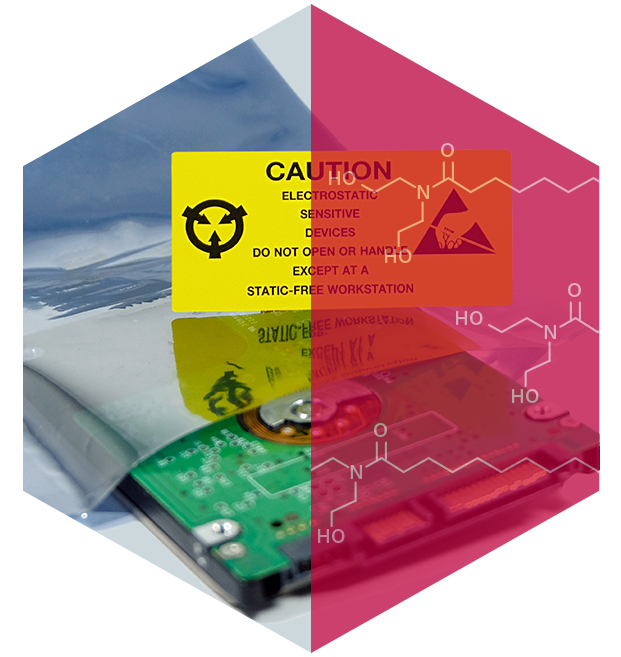 Most plastic materials tend to build up static charge due to very low conductivity (high surface resistivity).
Consequences of static charge build up vary from the most severe scenario like sudden electrostatic discharge in a flammable/explosive atmosphere or damage to packaged electronic goods, to less catastrophic but still problematic cases such as electrostatic adhesion in films, or simply undesired issues related to dust pick-up.
SABOSTAT® products are incorporated into plastic materials and, with a surface migration mechanism, increase surface conductivity, allowing for static charges to continuously release, therefore avoiding static charge build up.
Products like SABOSTAT® DELA or SABOSTAT® ASE series allow for a very large field of applications in both polyolefins and in other polymers, while SABOSTAT® A300 is particularly suitable for long lasting anti-static effects in polyolefin substrates.
In other applications, SABOSTAT® grades such as SABOSTAT® MLE, MOE and TO are used as dispersing agents in liquid color formulations. The dual hydrophobic-hydrophilic structure of these additives improves pigment dispersion into concentrates for optimal color yield, preventing agglomeration.
Technical documentation can be downloaded in the Customer Area.
| Product | Application | Description |
| --- | --- | --- |
| | | |
| --- | --- | --- |
| SABOSTAT® AL 100 | | Ethoxylated alkylamine anti-stat for use in polyolefins and styrenic polymers. The product is also used as a dispersing agent for pigments. Liquid product. |
| SABOSTAT® ASE | | Ethoxylated alkylamine anti-stat and anti-fog for use in polyolefins and styrenic polymers. Vegetable-based product, supplied as a low melting wax. |
| SABOSTAT® ASE 3 | | Ethoxylated alkylamine anti-stat and anti-fog for use in polyolefins and styrenic polymers. Tallow-based product, supplied as a low melting wax. |
| SABOSTAT® ASE 6 | | Ethoxylated alkylamine anti-stat and anti-fog for use in polyolefins and styrenic polymers. Hydrogenated tallow-based product, supplied as a low melting wax. |
| SABOSTAT® DELA | | Diethanolamide anti-stat for use in polyolefins, styrenic polymers and PVC. This product provides anti-static effects even at low ambient relative humidity. Product supplied as free-flowing pellets. |
| SABOSTAT® MLE SD | | Ethoxylated sorbitan ester for use in polyolefins and PVC. Main application is as a dispersing agent for pigments. Liquid product. |
| SABOSTAT® MOE SD | | Ethoxylated sorbitan ester for use in polyolefins and PVC. Main application is as a dispersing agent for pigments. Liquid product. |