Contact us
Anti-fog additives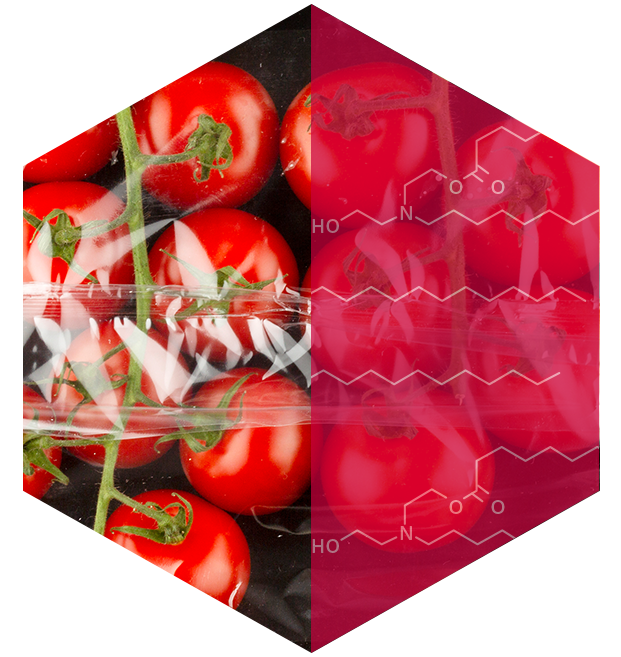 Fogging refers to condensation of water vapor on the surface of a transparent plastic film (due to differences in temperature and humidity between the two sides of the film) in the form of small discrete droplets leading finally to loss of transparency.
In food packaging films, fogging causes loss in content visibility, and therefore in product attractiveness, as well as accelerating product quality deterioration.
In greenhouse films, fogging leads to slower plant growth, and also plant and fruit blemishing due to lens effect or hot water dripping.
Anti-fog additives typically comprise hydrophobic and hydrophilic chemical functional groups in a single molecule. This structural feature allows condensed water to form a transparent layer on the film surface instead of discrete droplets, therefore maintaining transparency. This in turn helps to maintain packaged food visibility and quality, and contributes to plant health in greenhouses.
Product selection from SABO's anti-fog additives portfolio (including SABOFOG® MS, SABOFOG® ML, SABOFOG® PGS or SABOFOG® F1) enables our customers to design formulations and fine tune the anti-fogging effect according to film characteristics, usage conditions and effect durability.
Technical documentation can be downloaded in the Customer Area.
| Product | Application | Description |
| --- | --- | --- |
| | | |
| --- | --- | --- |
| SABOFOG® F 1 | | High molecular weight ethoxylated alkylamine ester, especially recommended for long-lasting anti-fog effect and for use at high processing temperatures. First choice for BOPP films; other possible applications in PE and PS. Product supplied as free-flowing beads. Analogous non-food contact compliant product is SABOSTAT® A300. |
| SABOFOG® M1 | | Special additive modifying polymer and water surface tension. Possible application in polyethylene greenhouse films as an "anti-mist" additive: when used in combination with anti-fog additives, "mist" formation is reduced thanks to reduced water evaporation in the greenhouse space. Liquid product. |
| SABOFOG® M1 40EVA | | SABOFOG® M1 as easy to handle 40% concentrate in EVA porous pellets. |
| SABOFOG® ML | | Sorbitan ester anti-fog additive for food packaging applications. It is also effective as anti-static additive or dispersing agent for pigments. Liquid Product. |
| SABOFOG® MS-P | | Sorbitan ester anti-fog additive, especially recommended in greenhouse films. It is also effective as anti-static additive. Product supplied as free-flowing beads. |
| SABOFOG® PGL | | Polyglycerol ester anti-fog additive for food packaging applications. Particularly suitable for biodegradable polymers. Liquid product. |
| SABOFOG® PGS | | Polyglycerol ester anti-fog additive for packaging and greenhouse films. Product supplied as free-flowing beads. |
| SABOFOG® TOE | | Ethoxylated sorbitan ester anti-fog additive for packaging and greenhouse films. It is also effective as dispersing agent for pigments. Liquid product. |
| SABOSTAT® A 300 | | High molecular weight ethoxylated alkylamine ester especially recommended as a long-term anti-fog additive in greenhouse films. Another important application is as a long-lasting anti-static additive in packaging films. Product supplied as free-flowing beads. The analogous food contact compliant product is SABOFOG® F1. |