Contact us
Amino HALS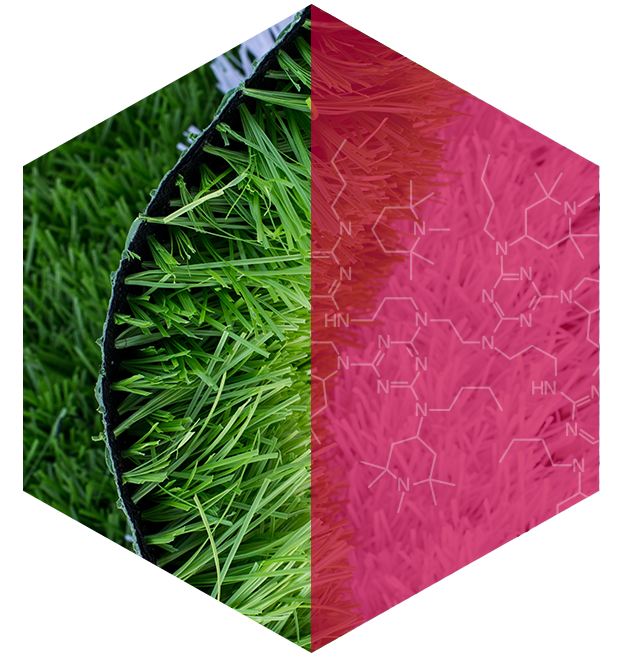 UV light stabilizers prevent degradation of polymers by scavenging free radicals formed when plastic materials are exposed to sunlight. HALS exhibit an unmatched effectiveness to inhibit photodegradation mechanisms that lead to undesired changes in plastic articles, such as cracking, chalking, color changes and finally loss of physical properties.
Amino HALS are high molecular weight additives (sometimes referred to as oligomeric HALS), and as such are very compatible and effective in low thickness/ high surface area applications like films and fibers. Thanks to their high extraction resistance and low volatility these additives are also used in thick section applications where additive migration can be an issue. SABOSTAB® UV 94 has the broadest field of applications including polyethylene, polypropylene, TPO, polyamide fibers and thermoplastic elastomers. SABOSTAB® UV 40 is the product of choice in very low thickness applications such as fibers thanks to its low pigment interaction and excellent melt flow control among the HALS products. SABOSTAB® UV 119 is a methylated HALS (Me-HALS), featuring low interactions with acidic substances (e.g., agrochemicals, fillers or flame retardants), and is particularly suitable for use in challenging applications like polyethylene agricultural films or artificial grass monofilaments. It also shows superior performance as long-term heat stabilizer as compared to conventional HALS in polypropylene and TPO, making SABOSTAB® UV 119 the product of choice in a variety of building & construction applications.
Technical documentation can be downloaded in the Customer Area.
| Product | Application | Description |
| --- | --- | --- |
| | | |
| --- | --- | --- |
| SABOSTAB® UV 119 | | High molecular weight Ammino HALS with increased resistance to chemicals and impurities originating from i.e., pigments or fillers. The first choice in demanding applications such as agricultural films, artificial turf and filled PP and TPO automotive parts. Highest contribution to thermal stability of polymers. Other applications include styrenic polymers, polyamides, polyurethanes, and elastomers. Product supplied as free-flowing beads. |
| SABOSTAB® UV 40 | | Polymeric Ammino HALS with low volatility, low die drip, minimal pigment interaction, and excellent resistance to extraction. Particularly recommended for sensitive or thin section applications. It also contributes to the thermal stability of polymers. Broad food contact clearances. Product supplied as micro-beads. |
| SABOSTAB® UV 94 | | Polymeric, general-purpose, high-performance Ammino HALS. Extensive applications in many polymers. Extensive food contact clearances. Product supplied as free-flowing beads. |